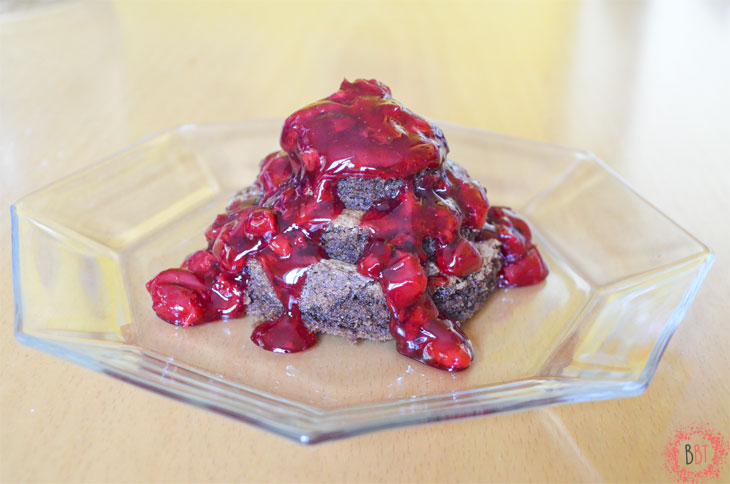 Špagete koje smo vam spremale prošle godine su vam se sigurno svidele jer ste ih redovno čitali mesecima, tako da smo se trudile da vam i ove godine spremimo nešto što ćete voleti koliko i njih! Kako ni Milica ni ja nismo preterano spretne u kuhinji, želele smo da vam pišemo o nečemu što ćete lako i brzo spremiti! " Jednostavan slatkiš za Dan zaljubljenih" nije baš kreativan naziv, ali obećavamo da je recept odličan! Uz to ćete sve to završiti za veoma kratko vreme :) !
Za koru vam je potrebno:
4 jajeta
100g šećera
200g maslaca
100g čokolade
4 kašike brašna
1 prašak za pecivo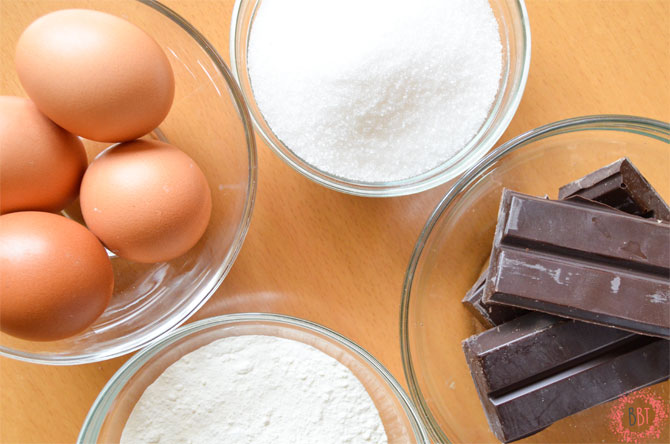 Za preliv sa višnjama vam je potrebno:
1 pakovanje smrznutih višanja
Jedan puding od vanile
2 čaše vode
100g šećera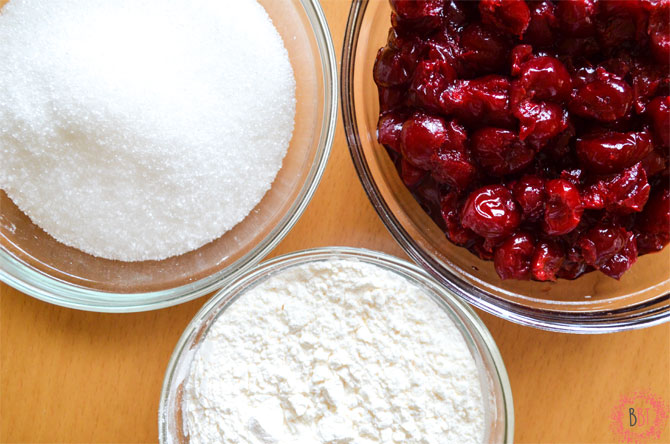 Razdvojte žumanca od belanaca, pa umutite žumanca sa 100g šećera. Rastopite maslac sa čokoladom, pa prohlađenu masu dodajte umućenim žumancima. Dodajte brašno pomešano sa praškom za pecivo. Posebno umutite sneg od belanaca i sjedinite obe mase lagano mešajući bez korišćenja miksera. Peći 15-20 minuta na 180°C. Kada se kora ohladi, čašama različitih veličina (ili modlama u obliku srca, što je nama, naravno, kasno palo na pamet), isecite krugove (srca).
Višnje prokuvajte nekoliko minuta sa 2 čaše vode i 100g šećera (količinu šećera slobodno smanjite, kako bi kontrast između slatkih kora i kiselog preliva bio jači, a naravno možete je i povećati). Prašak za puding rastvorite, po uputstvu sa kesice, u nekoliko kašika vode. Razmućen puding dodajte u višnje. Kuvajte, uz konstantno mešanje, par minuta i dok je puding od višanja još vruć prelijte preko kora.
Ukoliko želite, Jednostavan slatkiš servirajte sa dodatkom umućene slatke  pavlake, sladoleda ili šlaga! Kombinacija ukusa je odlična, ali se ne fotografiše baš najbolje (#bloggersproblems) :). Rekle smo vam da je naš Jednostavan slatkiš za Dan zaljubljenih baš jednostavan! :)
Javite nam kako vam se svideo i obavezno nas tagujte na društvenim mrežama ukoliko rešite da ga spremite! :)