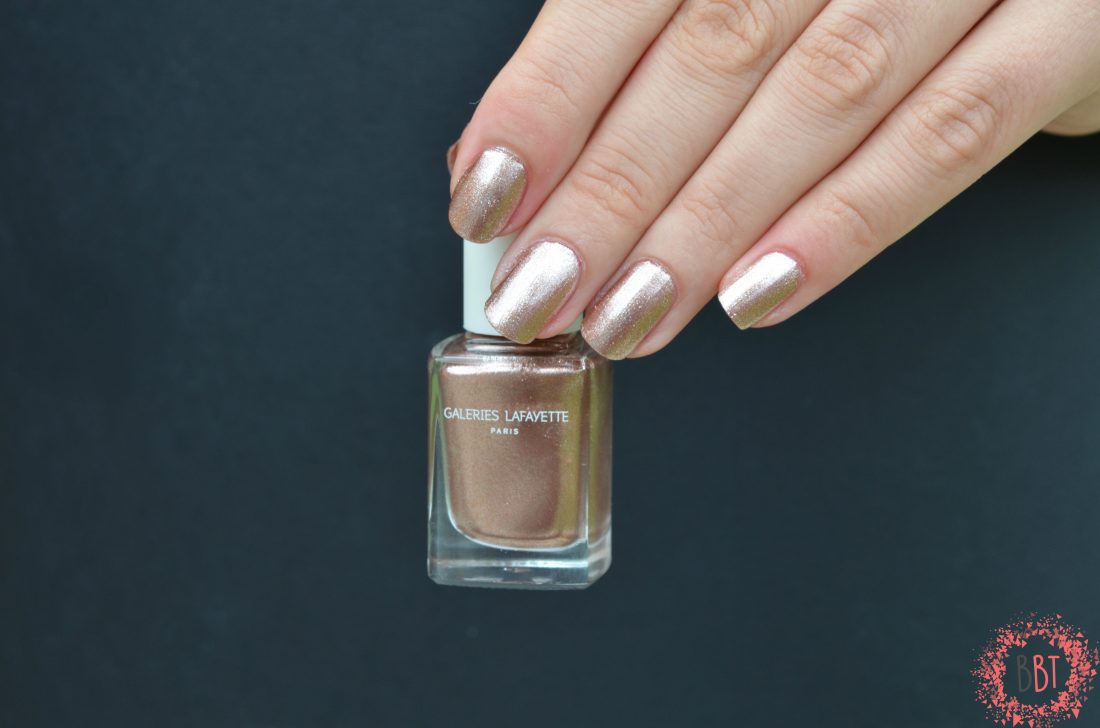 U julu smo vam obećale ovu recenziju, pa onda u oktobru ponovo. A ako vam kažemo da je ovaj Galeries Lafayette lak za nokte svoju recenziju čekao punih 11 meseci, pomislićete da nismo normalne. A verovatno i nismo, jer pogledajte samo koliko je neverovatan!
Galeries Lafayette lak za nokte u nijansi Charles Nº9 je lak veoma jedinstvene boje. Šljokičaste i metalik nijanse uvek je teško fotografisati, a Charles je i šljokičav i metalik, pa ne zamerite što nijansa nije savršeno realna na fotografijama. U pitanju je prelepa, rose gold nijansa laka za nokte. Pod različitim osvetljenjima može izgledati malo više bronzano, ili malo više zlatno, ali uvek je predivan!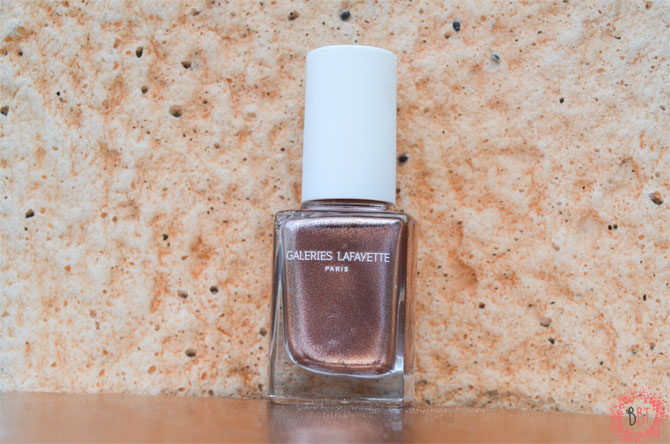 Kranje očekivano, trajnost ovog laka na noktima nije "za padanje u nesvest", ali 3-4 dana, bez nadlaka, za lak koji sadrži metalik šljokice morate priznati da nije loše. Prvi sloj na noktima izgleda užasno, nemojte da se začudite, ali već drugi sloj boju čini identičnom boji iz bočice. Kad smo već kod bočice rekla bih da je boja uživo realnija upravo boji bočice na fotografiji, dok je na fotografiji noktiju nijansa više zlatna nego što je to uživo. Ono što zna da bude nezgodno kod metalik lakova jesu tragovi četkice koji ostaju u laku na noktima, ali se to sa ovim lakom ne dešava. 
"Generalije" kao što je količina proizvoda, oblik četkice, gde ih možete kupiti, broj dostupnih nijansi i slično možete pročitati u ovoj recenziji, gde smo vam pisale o još dve nijanse ovih lakova. Kada je Galeries Lafayette lak za nokte u nijansi Charles Nº9 možemo vam samo još reći da ga mnogi smatraju "zamenom" za Marc Jacobs lak za nokte u nijanse Le Charm, za kojim su strane blogerke potpuno "poludele". Pri tom je cena Marc Jacobs laka za nokte oko 20€, dok je Galeries Lafayette lak ispod 4€!
Kako vam se sviđa ova nijansa laka za nokte? Ukoliko i vi imate neku nijansu koja je slična Charles-u, javite nam u komentarima, rose gold lakova nikad dosta :) .